Not happy with the quality of your photos?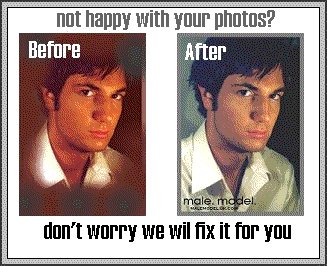 "Do you want to be the Feature Model of the Week?"
Let your dreams come true, take your webcam, or digital camera, start posing, be creative ! Then, submit your photos, stats & profiles to us and we will do the rest. Tell your friends about it.
" Are you a struggling Male Model? Cannot find a modeling agency to represent you? "
Are you a struggling male model trying to get a break? Are you trying to find a modeling agencies to represent you? Try a different route, submit your portfolio to us and be the reature model. Then use your gallery here to scout for agency in your area by giving the URL, its a different way to go ! Give it a try and its free & you never know who will discover you !
Its easy to make your own on-line portfolio "
Use your webcam to take your own photo shoots using its built-in timer. Wear simple clothes that reflect your chosen style. For best results use ample lighting with plain uncluttered background, black or white background works the best.Thats the only way to get good results is to take a lot of photos & choose the best ones.