MALE MODEL OF THE YEAR 2003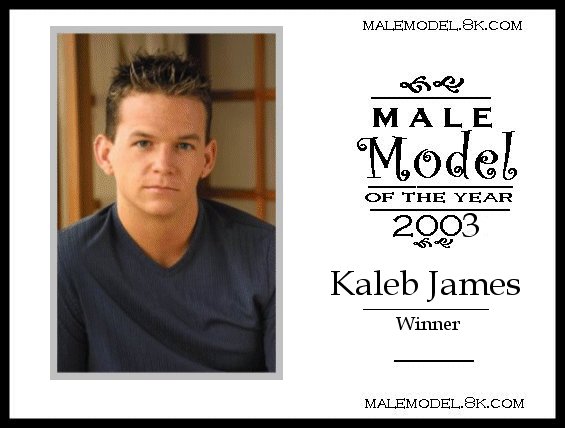 Kaleb - good pictures (quality, backgrounds and poses). I like the different locations in each shot. . .My wife was ready to go out and buy me underware after veiwing his SEDUCTIVE SHOT. Exactly was sells! He would suit magazine and catalogue modeling much better than runway. . . (Frank, Site Coordinator)
Kaleb-California have by far the best and most professional photos and has such a relax look about himself. He seem like a genuine guy and will have a lot to offer to your site. . . he in front of the camera and he has the most variety in photos as well. There is something very special about his eyes...they say he is going to be a winner in life - ( Philip Lee - Denmark - 1st Runner Up Male Model of the Year 2001 )
I was reading his profile carefully, I like sport, active people. Hes got a nice body, kind, cute face, his pictures Waaoo.. ; ) Q&A I also belive that the most important thing in life is to be happy. All the best ( Nexar - Junior Male Model of the Year 2002 )
I feel Kaleb has a unique but excellent look. He grabs your attention and thats excellent. I think his outlook on life is going to be his motivation to be the success he can be. Happiness is key to making a successful life I feel. . . ( Noah - SC - Jr. Male Model of the Year 2003 )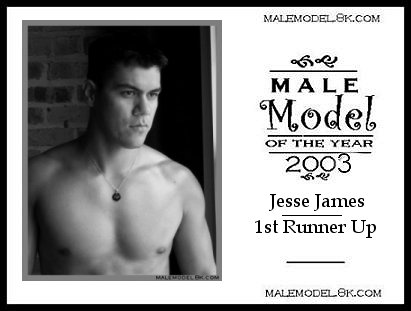 Jesse = good pictures (quality, backgrounds and poses), uses his close ups well. Body is great. His hieght would make him good for runway modeling.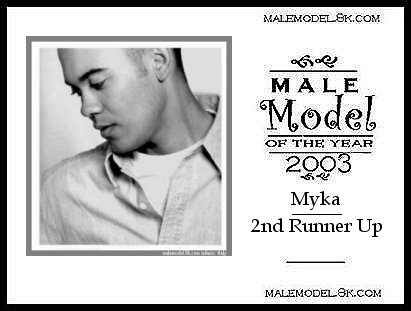 mykah good photo shoot/ambitious/all-around - ( Jacob - Mr. Fitness Model 2003 )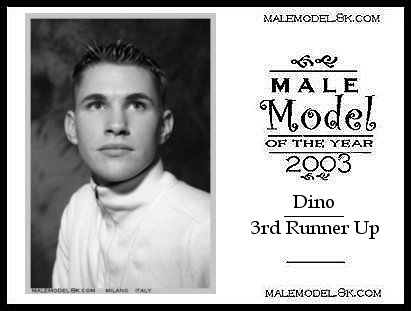 Dino = good pics, height, weight. good for runway modeling especially. . . ( Frank, Site Coordinator )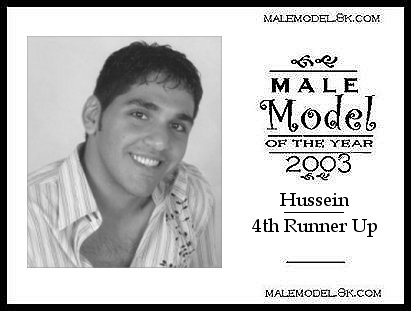 Hussein - Montreal Canada - I liked his overall apearance and his out look on life. His future seemed a lot more focused on experience than outcome. ( Steve- 2nd Runner Up Male Model of the year 2001 )
Scott - New York City (Scott could have been placed higher but didn't do his Q&A and that was important to know to see what personality he reflect . . . ( Philip Lee Denmark - 1st Runner Up Male Model of the Year 2001 )
To all those who have spent their time and effort to participate as models, l congratulate you! You are all winners in my book, because you have tried. Take what you have learned and use it to correct or redirect yourself.
Next time you go for a modeling audition or job, they might think your the hottest person to ever walk through that door! Some may even be cruel. That is part of the modeling gig and one thing you will learn is to grow a tough skin.
Just remember when going for modeling, get a portfolio with pics of you in different locations, attire and facial expression.
Get your pics done by PROFESSIONAL photographers and make sure you see thier work before paying for it. Avoid personal relations with casting directors, it has ruined more careers than it has made.
And just keep plugging away never giving up.
As far as acting auditions go, the average actor does over 120 auditions before getting one job ! Models have much more competition, so good luck!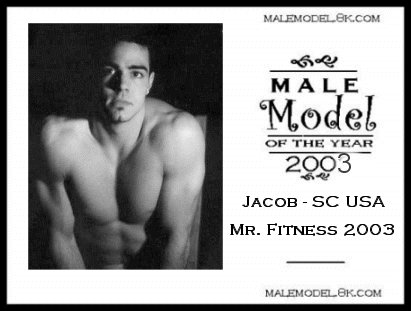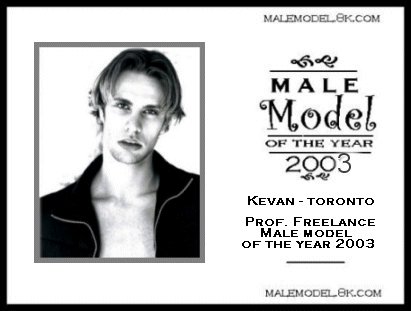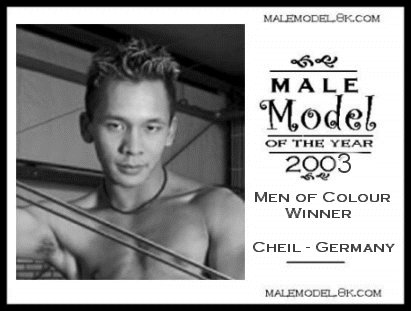 | | | | | | | |
| --- | --- | --- | --- | --- | --- | --- |
| MALE MODEL OF THE YEAR 2003 | Scott | Dino | Kaleb | Jesse | Myka | Hussein |
| Eduardo, Site Owner | 1 | 3 | 6 | 5 | 4 | 2 |
| Frank, Site Coordinator | 2 | 1 | 6 | 6 | 4 | 3 |
| Jacob, Mr. Fitness Model 2003 | 1 | 3 | 4 | 5 | 6 | 2 |
| Kevan, Prof. Male Model 2003 | 6 | 5 | 4 | 3 | 2 | 1 |
| Nexar, Jr. Male Model 2002 | 4 | 3 | 6 | 5 | 1 | 2 |
| Noah, Jr. Male Model 2003 | 1 | 4 | 6 | 3 | 2 | 5 |
| Philip Lee - 1st Runner Up 2001 | 1 | 3 | 6 | 4 | 5 | 2 |
| Steve, 2nd Runner Up 2001 | 1 | 4 | 2 | 3 | 5 | 6 |
| | | | | | | |
| Total ( Highest Score Wins ) | 17 | 26 | 40 | 34 | 29 | 23 |

VOTING BOOTH

+ JUDGES VOTES

Voting

booth

Judges

Votes

Average

Scores

1. Jesse - Texas USA

13

33

23.00

6. Dino - California USA

15

30

22.50

3. Scott - New York City

24

13

18.50

11. Kaleb - California USA

5

28

16.50

9. Myka - Lodi California USA

12

20

16.00

5. Hussein - Montreal CAnada

4

24

14.00

4. Matthew - St. Rosa CA USA

19

8

13.50

10. Joe - Sacramentio CA USA

12

15

13.50

7. Matthew - Virginia DC

8

10

9.00

8. Oliver Perez - NYC USA

2

13

7.50

12. Jochaim - England UK

1

13

7.00

2. Ramsey - Toronto Canada

2

0

1.00

TOP 12 ( Judges Vote )

Ash

Frank

Jacob

Kevan

Steve

Noah

Site

Owner

Q&As

Total

1. Jesse - Texas USA

6

4

6

2

3

6

6

33

2. Ramsey - Toronto Canada

0

3. Scott - New York City

5

2

6

13

4. Matthew - St. Rosa CA USA

4

1

3

8

5. Hussein - Montreal CAnada

3

5

4

6

6

24

6. Dino - California USA

1

6

6

5

6

6

30

7. Matthew - Virginia DC

6

4

10

8. Oliver Perez - NYC USA

6

1

6

13

9. Myka - Lodi California USA

1

5

2

6

6

20

10. Joe - Sacramentio CA USA

6

3

6

15

11. Kaleb - California USA

3

5

2

6

6

6

28

12. Jochaim - England UK

2

4

6

1

13

| | | | |
| --- | --- | --- | --- |
| FITNESS MALE MODEL 2003 | Judges | Voting B. | Average |
| Jacob - South Carolina | 14.25% | 14.25% | 14.25% |
| Matthew - Santa Rosa CA | 11.00% | 13.25% | 12.13% |
| Scott - California USA | 12.00% | 11.25% | 11.63% |
| Noah - Charleston USA | 7.50% | 13.25% | 10.38% |
| Patricio - NYC USA | 7.25% | 9.75% | 8.50% |
| Vicente Rene - Spain | 8.00% | 8.25% | 8.13% |
| Sean - Toronto Canada | 8.00% | 5.50% | 6.75% |
| Gabriel - United Kingdom | 6.75% | 5.75% | 6.25% |
| Omar - Miami FL | 6.75% | 5.50% | 6.13% |
| Martin - Slovenia | 6.25% | 5.50% | 5.88% |
| Freeman - Akron Ohio | 3.25% | 2.25% | 2.75% |
| Franklin - Palm Spring FL | 3.25% | 1.75% | 2.50% |
| Christian - Milano Italy | 4.00% | 1.00% | 2.50% |
| Peter - Europe | 2.00% | 2.50% | 2.25% |
| David - New York California | 2.00% | 1.75% | 1.88% |

check out the scores on how they fare
| | | | |
| --- | --- | --- | --- |
| PROF. MALE MODELOF THE YEAR 2003 | Booth | Judges | Average |
| Kevan - Toronto Canada | 23% | 14% | 18.50% |
| Matthew - DC Virginia USA | 14% | 21% | 17.50% |
| Oliver Peres - NY Brooklyn | 13% | 14% | 13.50% |
| Joachaim - London England | 12% | 13% | 12.50% |
| Kaleb James - San Diego | 10% | 8% | 9.00% |
| Ole - Norway | 6% | 7% | 6.50% |
| Gabriel - United Kingdom | 7% | 6% | 6.50% |
| Troy - London England | 7% | 5% | 6.00% |
| Peter - Europe | 5% | 7% | 6.00% |
| Bryan - Toronto Canada | 2% | 2% | 2.00% |
| Algy - Lithuania | 1% | 1% | 1.00% |

| | | | |
| --- | --- | --- | --- |
| Junior Male Model of the Year 2003 | Judges | Voting booth | Total |
| Noah - Charleston USA | 18.50% | 22.50% | 20.50% |
| Hussein - Montreal Canada | 11.50% | 22.50% | 17.00% |
| Dino - Sacramento CA | 11.50% | 13.50% | 12.50% |
| Nathan - BC Canada | 19.50% | 1.50% | 10.50% |
| Joe - Sacramento CA | 7.50% | 12.00% | 9.75% |
| Mykha - Lodi CA USA | 3.00% | 13.00% | 8.00% |
| Ben - Ilinois USA | 7.00% | 3.50% | 5.25% |
| Jason - Michigan USA | 6.00% | 3.00% | 4.50% |
| Shaun - Salt Lake City | 3.00% | 1.50% | 2.25% |
| steven - Cornwall | 2.50% | 2.00% | 2.25% |
| Franklin - Palm Spring FL | 2.50% | 1.50% | 2.00% |
| Derek - Fort Wayne | 3.00% | 1.00% | 2.00% |
| Danny - Holloywood CA | 2.50% | 1.00% | 1.75% |
| Brandon - NY | 2.50% | 0.50% | 1.50% |

| | | | |
| --- | --- | --- | --- |
| MEN OF COLOUR 2003 CONTEST | Judges | Voting Booth | Average |
| Chiel - Germany | 20% | 15% | 17.5000% |
| Jesse - Cameron Texas | 18% | 15% | 16.5000% |
| Ramsey - Toronto Canada | 15% | 11% | 13.0000% |
| Rene - Toronto Canada | 7% | 17% | 12.0000% |
| Mykha - Lodi CA USA | 4% | 18% | 11.0000% |
| Freeman - Akron Ohio | 9% | 4% | 6.5000% |
| Kai - Urbana Ilonois USA | 7% | 6% | 6.5000% |
| Jack - Sydney Australia | 6% | 5% | 5.5000% |
| Douglas - Hollywood CA USA | 4% | 2% | 3.0000% |
| Juancito - Toronto | 3% | 3% | 3.0000% |
| Tyron - Orange Country CA | 3% | 3% | 3.0000% |
| Hassan - Garden Grove CA | 2% | 1% | 1.5000% |

| | |
| --- | --- |
| CANDID PHOTO CONTEST 2003 | |
| Lauren - Belguim | 23% |
| Rushan - South Africa | 21% |
| Brandon - NY | 12% |
| Shaun - Salt Lake City | 11% |
| | |
| Most Photogenic | |
| Lauren - Belguim | 24% |
| Rushan - South Africa | 19% |
| Shaun - Salt Lake City | 14% |
| | |
| Most GoodLooking | |
| Rushan - South Africa | 27% |
| Lauren - Belguim | 23% |
| Shaun - Salt Lake City | 12% |
| | |
| Most Interesting Candid Shot | |
| Brandon - NY | 25% |
| Lauren - Belguim | 22% |
| Rushan - South Africa | 17% |