MALE MODEL OF THE YEAR 2004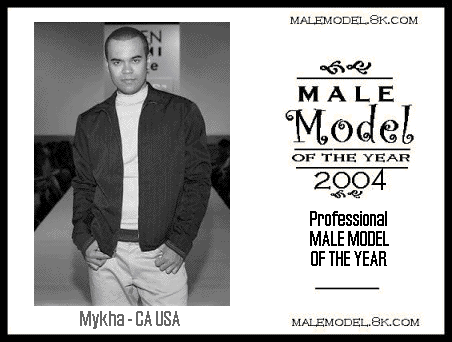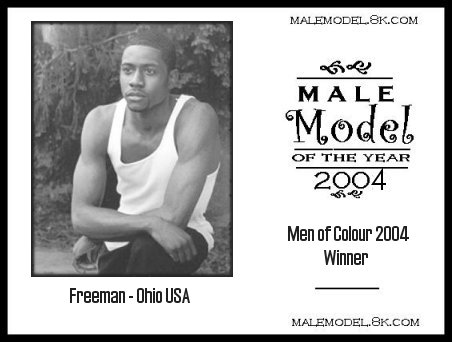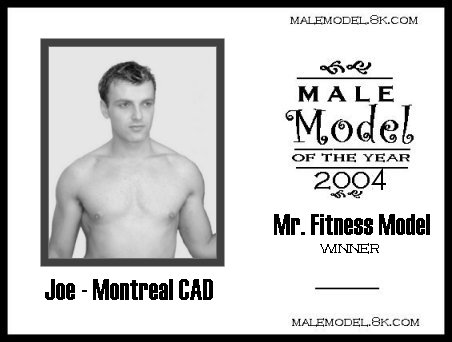 The Scores. . . The Judges
To all who qualified, taste in looks vary from one person to another. Sometimes its not how good you look but how you might suit a certain product they are selling. Also good looks is a matter of opinion. Someone I find good looking may not be to another person so please never take the judging personally. I think all of you have the POTENTIAL to make it in the industry, sometimes look has little to do with it. Sometimes drive and patience has more to do with it!
If this is what you really want to do, stick with it! Don't give up! Also realize it takes money to make money. Going to a cheap photographer for head shots or a portfolio and/or trying to do it yourself will usually result in cheap photos and lost work.
Go to legitimate agencies and ask them who they use. If you keep hearing the same names over again you are sure that they are the photographers you would like to use.
Anyway good luck to all of you and again had some of you had better photos ( a problem I saw with everyone) I'm sure your scores would be a lot different!
Frank ( Site Coordinator, Retired Actor )
Jesse Huerta TX USA - I just want to wish everyone of you the very best of the Holiday Season. I am very proud to do the closing remarks for this year 2004. Its been a challeging year for our site, not just for recruiting new members, but also to provide you with the best modeling resources available on the web.
As we know New York, Miami, Milan, Los Angeles are the major centers for modeling, having Texas as my home based have limited me to a handful of assignments. But still I try to do my very best, landing a couple of Fashion Fitness Modeling in our local malls.
My biggest achievement is my appearance in the Coffie Table Book called MALE PERFECTION by the world famous photographer Athen Grey. The book is available at the Amazon, Barnes & Noble & other bookstore worldwide. It was such an honor to be part of this project.
Also I am inviting everyone to visit my website jessehuerta.com. Truly MALE MODEL MILANO ITALY had helped me alot, to be confident about myself & confortable with people.
Again I just want to thank everyone, in behalf of our site, & wish you all the best in 2005.
EDUARDO SITE OWNER - Once Again I want to thank Frank and the rest of the Judges, i wish we could have more past winners/runner ups participated in the judging process coz the success of this site depends on you. To the few who participated a big Thank you!! Frank, Mykha, Jesse & Jacob.
FRANK - SITE ADMINISTRATOR - To all those who have spent their time and effort to participate as models, l congratulate you! You are all winners in my book, because you have tried. Take what you have learned and use it to correct or redirect yourself.
Next time you go for a modeling audition or job, they might think your the hottest person to ever walk through that door! Some may even be cruel. That is part of the modeling gig and one thing you will learn is to grow a tough skin.
Just remember when going for modeling, get a portfolio with pics of you in different locations, attire and facial expression.
Get your pics done by PROFESSIONAL photographers and make sure you see thier work before paying for it. Avoid personal relations with casting directors, it has ruined more careers than it has made.
And just keep plugging away never giving up. As far as acting auditions go, the average actor does over 120 auditions before getting one job ! Models have much more competition, so good luck!
Eduardo

Frank

Jacob

Mykha

Jesse

JR. MALE MODEL

Site

Site

Mr. Fitness

2nd Place

Ist R-Up

TOTAL

OF THE YEAR 2004

Owner

Adm.

Model 2003

MM03

MM03

(Looks + Photo Shoot + Overall Impression )

Jason - Teckonsha MI

26

22

7

8

10

73

Winner

Nathan - BC CA

24

20

8

5

6

63

1st

Rushan - Heideberg S Africa

24

19

10

3

6

62

2nd

Shazad - Kalamazoo MI

22

20

10

4

5

61

3rd

Joe L - Saramento CA

21

21

8

4

5

59

Ben - Champain IL

18

16

10

8

6

58

Tyron - Orange County CA

20

18

8

4

6

56

Franklin - Palm Spring FL

20

18

7

5

6

56

Shawn - Salt Lake City

22

19

5

4

5

55

Matthew L Toronto

18

18

8

4

5

53

Steven -Redruth Cronwall

22

15

5

5

5

52

Ramsey - Toronto CA

22

15

5

5

5

52

Brandon - Redding CA

20

15

5

3

5

48

MEN OF COLOUR 2004

Eduardo

Frank

Jacob

Mykha

Jesse

MEN OF COLOUR

Site

Site

Mr. Fitness

2nd Place

Ist R-Up

Chris

TOTAL

2004

Owner

Adm.

Model 2003

MM03

MM03

(Looks + Photo Shoot + Overall Impression )

Freeman - Akron Ohio

28

23

0

17

21

28

117

Winner

Ramsey - Toronto

30

20

0

16

21

22

109

1st

Shazad - Michigan

27

23

0

16

15

21

102

2nd

Tyron Orange County

28

23

0

12

18

19

100

Greg Charlotte NJ

26

21

0

10

18

25

100

Daniel - Toronto

25

20

0

12

18

21

96

MR. FITNESS MODEL 2004

Eduardo

Frank

Jacob

Mykha

Jesse

MR. FITNESS MODEL

Site

Site

Mr. Fitness

2nd Place

Ist R-Up

Chris

TOTAL

2004

Owner

Adm.

Model 2003

MM03

MM03

(Looks + Photo Shoot + Overall Impression )

Joe - Montreal

30

23

24

13

27

28

145

Winner

Omar - Miami

30

20

30

18

18

19

135

1st

Martin - Slovenia

29

20

24

18

18

22

131

2nd

Freeman Akron Ohio

30

23

21

12

21

21

128

David - NY

25

20

24

12

18

21

120

Shaun - Salt Lake

26

21

18

13

15

25

118

Mathew L CA

27

20

27

12

12

19

117

Franklin Palm Spring

28

23

18

12

15

19

115